If you're having trouble viewing this email, you can see it online.
October 2021
In this Issue:
From the Director

Happening now! How YOU make a difference

Service News: Our Service Stories tell it best!

Coming Soon
Dear Friends of MTF,
Our MTF Teens are busy collecting coats and planning this year's coat giveaway just in time to keep everyone warm this winter! A special thank you to the Waukegan Community Bank, a Wintrust Community Bank, for being our event sponsor! More details below on how you can donate or volunteer!
A heartfelt thank you to everyone that shopped and celebrated with MTF at J.McLaughlin last month. We were honored to be the non-profit beneficiary of their 10th Anniversary festivities. It was a wonderful community event!
This month, you can shop at The Lake Forest Shop all month to benefit MTF and other local non-profits! More details below!
In November, you can shop at the Artisan Guild's French Market to benefit MTF and keep shopping into December at the Lake Forest Station to support MTF and other local non-profits at this wonderful city event!
We hope you will shop local for a cause!
Paula
MTF Teens Annual Coat Drive and Give away!


Our MTF Teens, lead by Alyson Dueringer, are planning this year's Coat Giveaway! There will be a feature on MTF Teens and the coat giveaway in the November issue of Forest & Bluff! Be sure to look for it!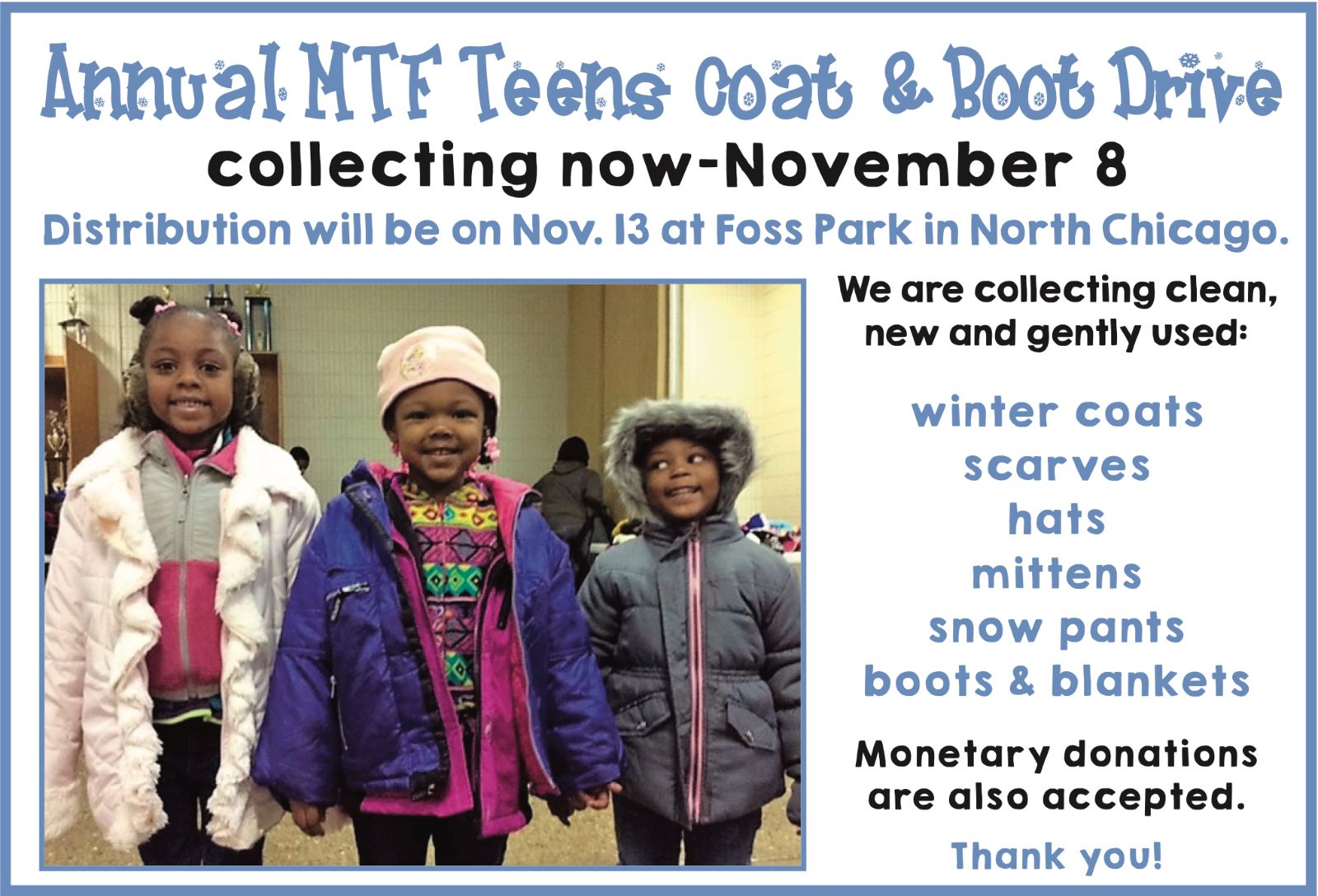 If you would like to volunteer on November 13, please contact Marly at msubido@motherstrustfoundation.org.
MTF honors Renee Baldwin!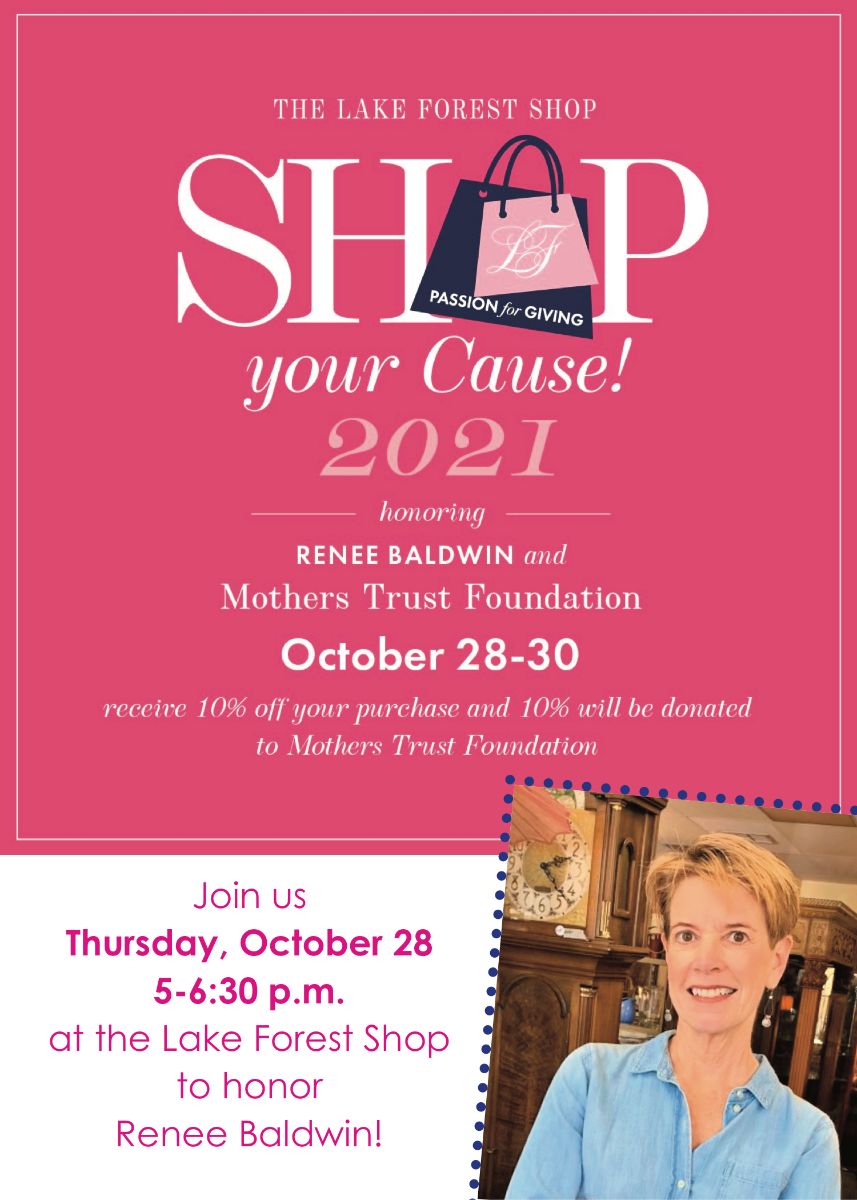 Please join us to shop and recognize the amazing work that Renee does to support so may local non-profits through Upscale Rummage! MTF provides vouchers to those in need of household items so they can shop free of charge! Renee also makes generous donations to MTF from the proceeds of UR!
How MTF grants make a difference...
A single mother has three daughters who have been taking turns and sharing a single pair of glasses at school. MTF provided them with vouchers for free eye exams and glasses.
A family has two teen-aged boys who have outgrown all of their clothing and shoes. One of the boys was going to school in shoes he had glued together. MTF purchased a Walmart gift card for the family to provide the boy with new school clothing and shoes.
Please join us any Wednesday at 9:30 a.m. via Zoom to review the weekly grant requests. To receive a Zoom invitation for a Service Meeting or learn more about MTF, visit our website at motherstrustfoundation.org.
Service News!


We welcome Crystal Overton as our new Service Manager!

After over 20 years serving in various capacities at the Lake County Health Department, Crystal brings her knowledge, warmth and desire to make a difference in the lives of Lake County children to MTF!

Coming Soon!

Prom 2022 is happening at Lake County high schools and MTF is gearing up for our 2nd Pop Up Prom Shoppe dress give away! MTF is partnering with Zengeler Cleaners and College of Lake County to give all students an opportunity for a college tour and a dress! Dresses can be dropped off at any Zengeler Cleaners location! Stay tuned for volunteer opportunities in early 2022!

I can't thank you enough for assisting with my client last week. He and his family have been through some tough times but thanks to you and your organization, he was able to sleep in a safe place. The family and I are extremely grateful we had your support throughout his hardship. I'm happy to report that he is doing great and we are in the process of applying for housing opportunities. I want to say thank you from Lake County for your continued commitment to youth and families in Lake County.

Love always,

-A Lake County Case Worker

Honestly, everyone at Mothers Trust has been absolutely a blessing and amazing. I am humbled when the parents of the students I work with thank me because Mothers Trust is the real angel in these families' lives.

-A counselor at at Lake County school

MTF could not be the resource that it is for social workers without our generous donors! These thank yous are for you!