If you're having trouble viewing this email, you can see it online.
AUGUST UPDATES 2021
In this Issue:
From the Director

How YOU make a difference - Campaigns, Events, MTF's Impact Numbers

Our Service Stories tell it best!

Meet Susan Daniel, our new Service Manager

Things you need to know
Dear Friends of MTF,
We are hopeful for a successful start to the school year! MTF grants often ensure a child begins the year with confidence because he or she received a MTF grant for new school clothes.
MTF grants have given 37 athletes the opportunity to play a sport this year! Being part of a team is an awesome way to learn how to work hard, have fun and find success on and off the field!
Thanks for your support of our mission,
Paula
How YOU make a difference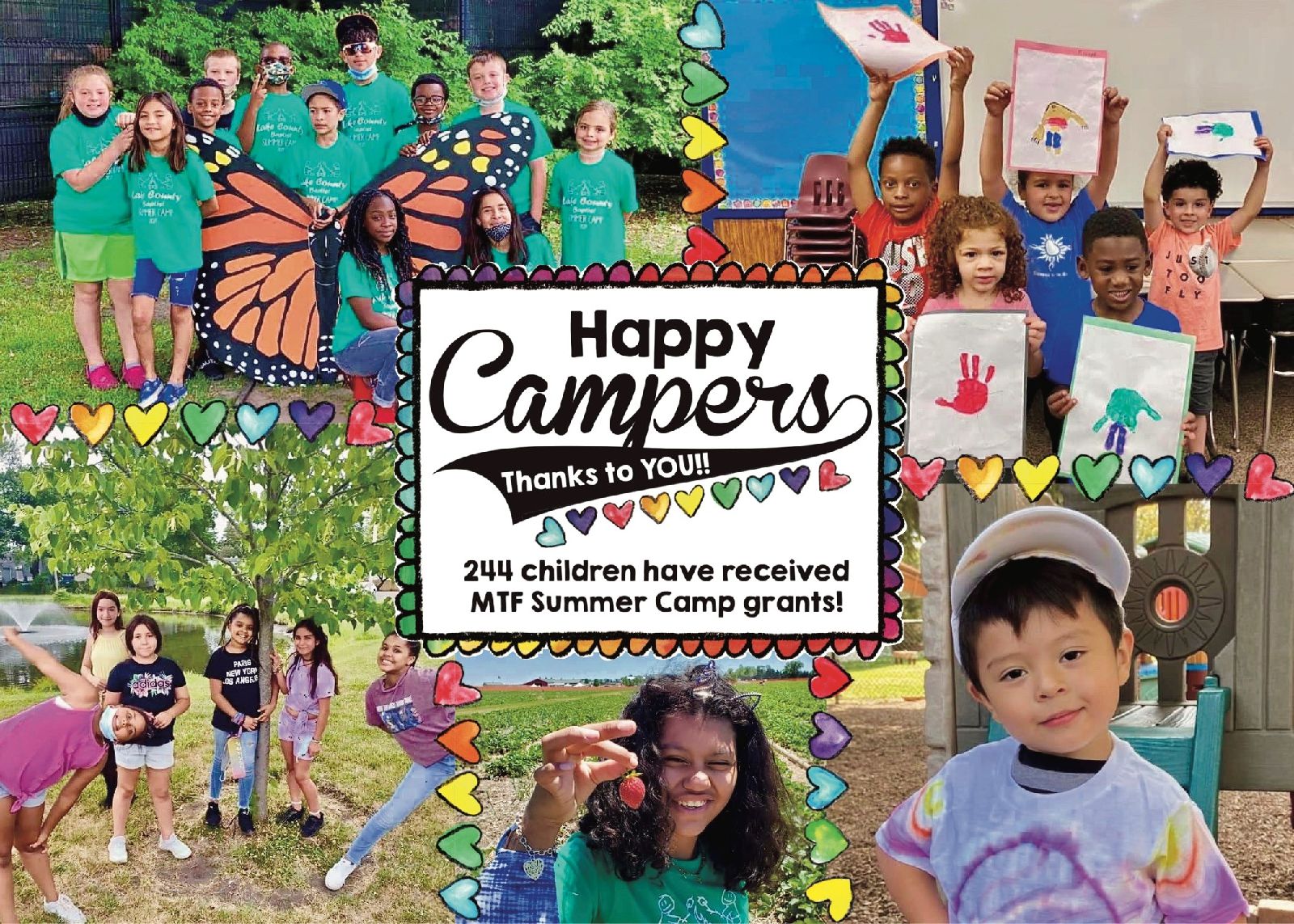 Thanks to all that donated to our Summer Camp Campaign!
You sent 244 to camp. These smiles are because of you!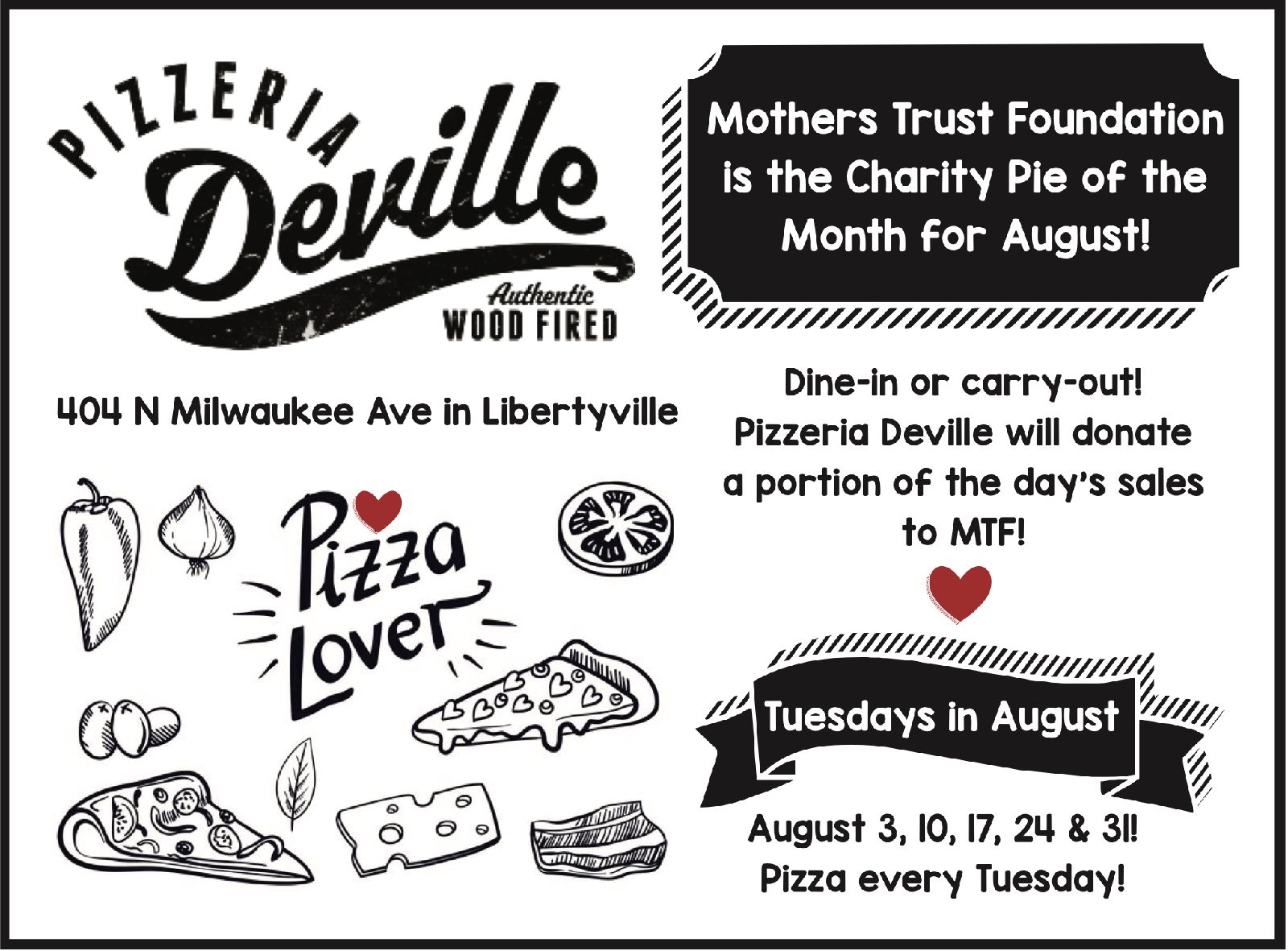 Pizza every Tuesday in August!
Thanks to John Durning, owner of Pizzeria DeVille, for choosing MTF as the Charity Pie recipient for August!


Impact at a Glance - 2021 Jan-July
Children Impacted
by MTF Grants

School fees or other education grants
Grant to play
a sport
1,469
42
37
A recent request for help &
how our Service Committee responded
A single mother and her two children, once homeless, successfully complete the Lake County Haven transition program and are now living in their own apartment. The mother knows that it is critical for her to maintain her employment to keep their new home, but she can't afford the cost of childcare for her young son. MTF collaborates with the local park district to cover the cost of summer camp for the boy, allowing her to keep her job and remain in her home with her children.
Please join our service committee any Wednesday at 9:30 a.m. via Zoom to review the weekly grant requests and how MTF grants are truly making a difference...one child at a time!
| Welcome, Susan! | We are happy to announce that Susan Daniel is our new Service Manager. She is a passionate community advocate having volunteered in Lake county nonprofits for the last 20 years in various capacities. She brings a deep understanding of the needs of the communities served by Mothers Trust Foundation and possesses the empathy and passion to help those families we serve. |
| --- | --- |
Things you need to know...

Tuesday, August 17 is National Non-profit Day! Together we are making a difference!


Honestly, everyone at Mothers Trust has been absolutely a blessing and amazing. I am humbled when the parents of the students I work with thank me because Mothers Trust is the real angel in these families' lives.

-A Lake County school counselor
Questions? Visit our MTF Website or email Marly at Msubido@motherstrustfoundation.org.
Mothers Trust Foundation is a 501c3 non-profit organization.
Our Mission: MTF provides immediate assistance during times of crisis to low-income children living in Lake County, IL.
Our goal is to provide hope, build confidence and make a positive difference in a young person's life. 😊